Diet
Free choice grass hay, salt block, mineral block, and water. Spread out the hay so that they have to move to eat.
Alfalfa= cow hay
Grass Hay= horse hay
Diet and movement probably play the biggest part in Natural Hoof Care. As a wild horse travels, they eat a tuft of grass, then walk, eat a twig, then walk, eat a leaf, and so on. They are always moving and browsing 15-20 hours a day. This is our goal with our horses. Feeding free choice grass hay, salt block, and a mineral block are a few of the ways we can prevent major hoof problems that plague our domesticated horses. It is very rare that, founder, navicular, thrush, and other hoof problems are ever found in the wild horses. Prevention is our goal.
SlowFeeders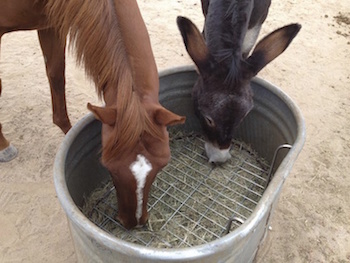 The best way I have found to help horses "browse" is by the use of slow feeders. These slow the horse down from feeding too fast and eating too much. This helps the horse not to colic too. Keeping food in front of the horse all the time (which is very natural) helps the digestive system keep in motion by providing feed at all times. It also aids in boredom. The horse can eat for awhile, walk around, eat again, play with its friends, eat again, take a nap, eat again, go for a ride, eat again…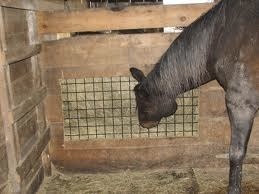 Use your imagination!!!! Almost anything you have already laying around can be used. I like the heavy field fencing that is 2x4 rectangles. But, this is something you need to experiment with and see what works for your horses. Go to slow feeder link to see more examples.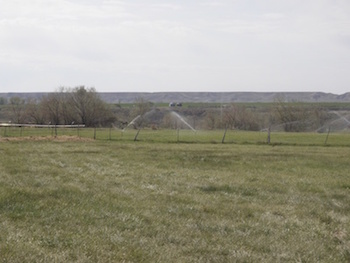 Less trips to the feed store is the best! Most horses do not need supplements and grains. Pasture is high in sugar levels and is not the best choice for all day living conditions. Turn out to pasture only between the hours of three a.m. to ten in the morning. This is when the sugar levels are not as high. Because of photosynthesis the sugar levels in the grass drop down by the roots when the sun goes down, and then rise durning the day when the sun is shining. So, when most people get home from work about 5:00p.m. they are turning their horses out to pasture to eat "twinkies".
With our horses, we turn them out to the pasture at 6:30 a.m. in the morning and put them back in their paddock of paradise about 9:30 a.m. Then they browse during the afternoon until I feed them grass hay about 6:00 p.m. (My horses can browse on their own because their paddock of paradise is about 3 acres.)